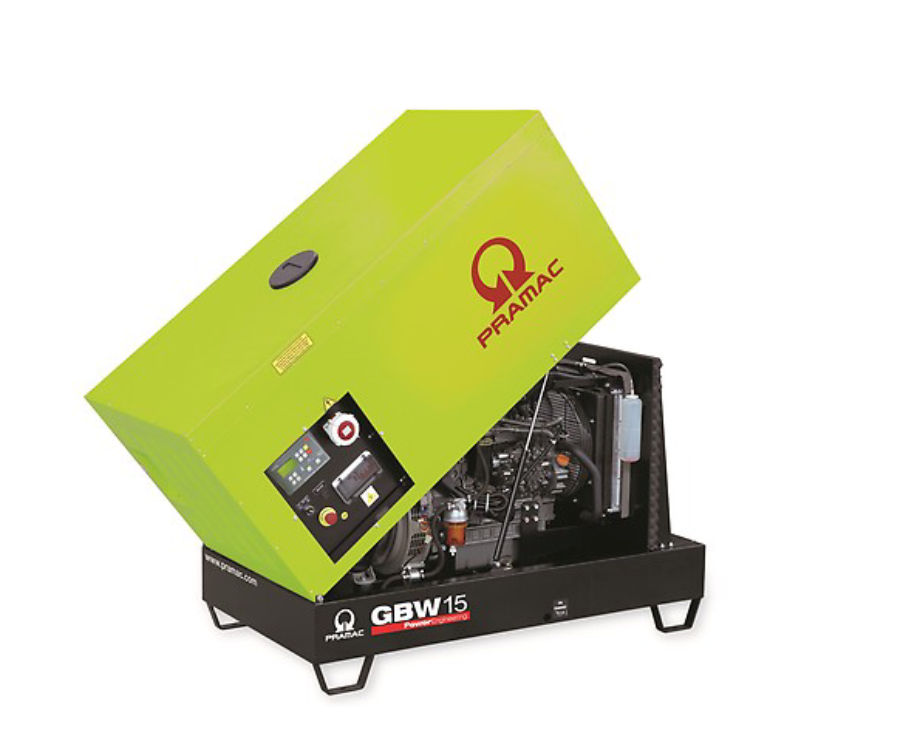 The GCW15P-S is a dedicated single-phase canopy model ideal for standby power in off-grid and on-grid purposes.
The Pramac GBW15P 14.1kVA Three Phase Perkins Diesel Generator delivers world-class commercial standby backup power performance. GBW15P-P comes with a strong Italian designed Mecc Alte Alternator, digital automatic control panel, and soundproofed zinced steel full weatherproof enclosure.
The PowerGen team is here to make sure you find the perfect power source for your business needs. With years of experience and expertise, we can provide expert advice about sales, installation and maintenance so that all fields are covered in-depth with ease!
Main features of GBW15P
Frequency: 50Hz
Voltage: 400V
Power factor: cos 0.8
Phase and connection: 3
Standby power LTP: 14.40 kVA
Standby power LTP: 11.52 kW
Prime power PRP: 12.99 kVA
Prime power PRP: 10.39 kW
Dry weight (kg): 500
Dimensions (L x W x H / mm): 1650 x 1000 x 1130
Fuel tank capacity: 51 L

For installation data check out the Pramac specifications manual attached.
*Specifications are taken from the GBW15P catalogue (attached).
Engine specifications for GBW15P
Type of engine: Mecc Alte / ECP 28-0S/4
[50Hz] Exhaust emission level: Stage IIIA
Engine cooling system: Water
Poles: 4
Type: brushless
Voltage regulation system: Electronic
Standard AVR: DSR
Voltage tolerance: 1%
Max gross power (LTP): 13.5kW
Fuel: Diesel
Efficiency at @ 75%: 86.9%
Specific fuel consumption @ PRP: 248 g/kWh
Class: H
IP Protection: 23

*Specifications are taken from the GBW15P catalogue (attached).
GBW15P includes:
Base frame made of welder steel profile, complete with:
Anti-vibration mounting properly sized
Visual fuel level indicator
intergrated support legs
Plastic fuel tank complete with:
Filler neck
Air breather (vent pipe)
external refueling ability
Oil draining facilities
Canopy
Single piece hinged soundproof canopy equipped with pneumatic arms and handlesto lift up the canopy allowing easy access to the genset for maintenance purposes.
Simple handling operationswith central lifting eye
Soundproof! Noise attenuation thanks to soundproofing material (polyurethane foam) and efficientresidential silencer placed inside the canopy.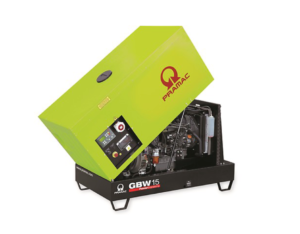 Our team at PowerGen provide you with the power to generate solutions for businesses. Call us today on 1300 885 789 to discuss this option for your business.