Radiator maintenance is an integral and often forgotten part of the standard generator maintenance.
A lack of or poor maintenance to the radiator and cooling system can cause the engine to:
Perform below the intended power output

Create excessive wear

Degrade the lubricating oil

Unit failure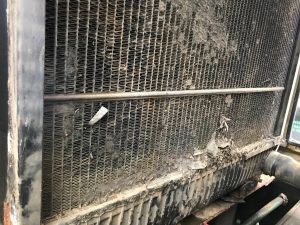 If your radiator is filthy, then you've got the wrong people looking after your equipment. It's so important that you are getting your generator serviced regularly by professionals that know what they are doing.
Regular Generator Maintenance is Key
Regular generator maintenance and servicing is the key to the longevity of your generator. Trust us it will pay off in the long run as the longer your generator lasts, the less you'll have to spend on brand new generators!
Here at PowerGen Australia, we are experienced professionals and offer generator maintenance services. We'll provide lab-tested coolant and oil sampling as part of our standard maintenance schedules, which is an absolute must for all sizes of generators.
Don't let your radiator and cooling system let you down, make sure you've got the right people looking after your generator!
Contact our friendly team today to inquire about our generator services.